Build your virtual race platform
We care about our industry and your business. We thought of a way to help you reach out to your events with a temporary initiative to virtually engage their audience during these difficult times.

As we notice through news media and social channels everywhere around the world people are still able to exercise within their own possibilities. Other than working towards an event they are now setting their own goals and trying to stay fit.

To encourage this we now offer our Sporthive Virtual app for free, for you or your customers to bundle these efforts into a virtual race experience during the COVID-19 outbreak. Upload your virtual results to our Sporthive result platform and combine it with our Selfie functionality, which can be used by athletes to upload proof of their virtual race result.
This way your customers can still connect with their event participants and audience in an accessible way, until the live events are rescheduled and back on.
1) How to use THE virtual app?
1) How to use THE virtual app?
Register for the race through the app by connecting your registration platform.
Virtual bib number is received by participant.
Run the selected distance from wherever is possible. Track the distance and time with the treadmill or running app: MTEC, Garmin, Strava, Adidas running, Apple watch, FitBit watch or any other running app.

*

Proof of finish: make a selfie, picture or screenshot of your distance and time.
Submit results in the App by filling in a form.
Search your result via the app.
Share your result on social media via the app by using hashtags.
*Choose what kind of proof / submission of the results you like.
2) App types
Sporthive Live > free of charge, fast published.
SeriesApp & TimerApp > event can be published in your own app for free.
Already have an EventApp? > we update your app. Contact your Account Manager for the pricing.
A virtual app is a content app only > all extra features, like Live Tracking must be disabled.
3) Registration
Regular registration process.
Use your own registration platform.
Confirmation email send to participant:
- Virtual bib number
- Download link app
- Explanation recording run: running app, treadmill, etc.
- Gather proof of finish
- How to submit your results
- Share on social media: tagging organization, use of #
4) Tiles & Menu
5) Results
Proof of finish
Selfie/photo with name, bib and finish time.
Screenshot of running app result with name and bib.
Fill in the results form.
Submit results only once or as much as the runner wants; you decide.
Publish and update results whenever you'd like. Daily, weekly, only once; you decide.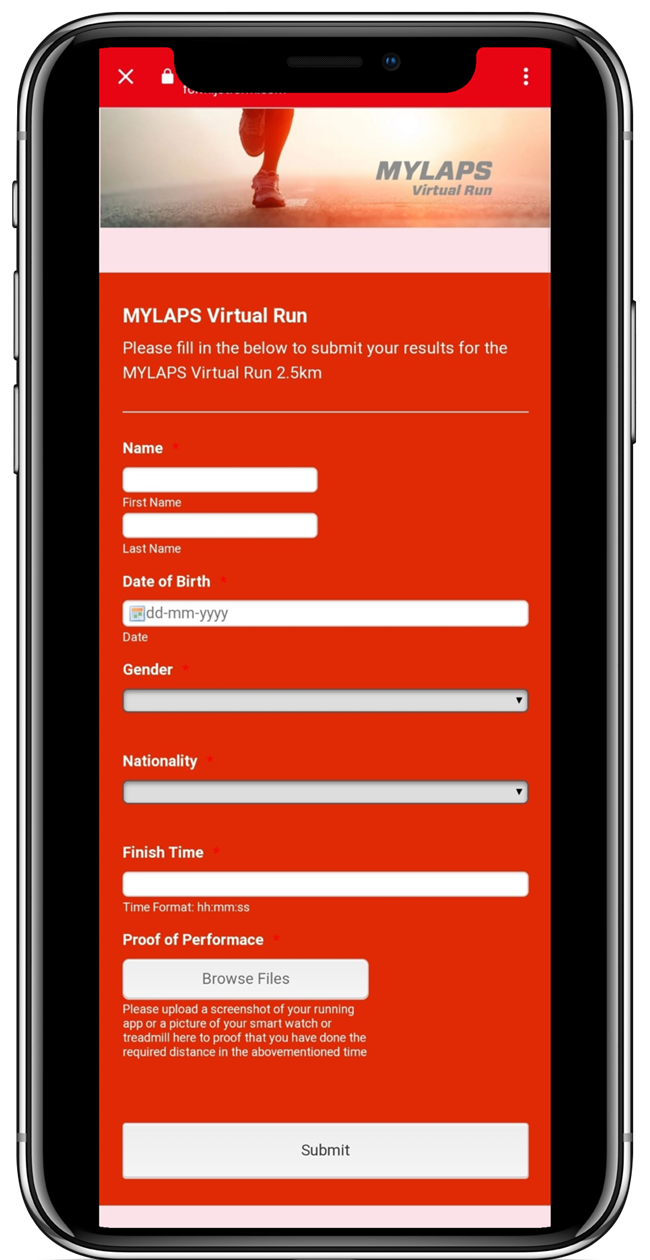 6) Results - Ideas for proof
7) Sponsor visibility
8) Setup your virtual app
Choose what app type you want and set up the app:
- Sporthive Live
- EventApp
- SeriesApp
- TimerApp
Create a new event in CMS.
- Make sure you set the event date to the final date of submission of the results, so you're event will show in the app till the end. Previous events are automatically moved to the "Previous Events" section in the app.
Create the registration and results form.
Create selfie overlays.
Complete the wizard. Only submit the wizard when event/app is ready to go live.
!Ignore the timer setup page and the attention button at the top of the event in CMS!
9) Need help?
Visit our Knowledge Base should you have any questions concerning the setup and configuration of the app.
Contact eventapp@mylaps.com if you can't figure it out.
Contact your Account Manager at MYLAPS if you have any other questions.