The PhotoVideo set up needs to be configured in the EventCMS before the race day. Follow the next steps to configure your PhotoVideo set up. Step 1-5 explain the configuration in the EventCMS. After that, you need to load the settings on the Integrator, step 6 & 7 will explain that.

Step 1: Create your event
Go to https://eventcms.sporthive.com and follow the 5 step wizard to create your event. Ensure that the timeline set up is final before you configure the PhotoVideo set up.
Step 2: Add the Integrator
Go to Config -> PhotoVideo and click 'Add Integrator'. Enter the DeviceId that is printed on the Integrator. Select the timeline[1] where this Integrator will be deployed. Repeat for each Integrator.
[1] Ask your timer for the setup of the timelines.

Step 3: Add the camera
Click 'Add Camera' to link a camera to an integrator. Enter the DeviceId that is printed on the camera and give it a display name (e.g. 'Finish' or '10k') that will be displayed as the caption for photos and videos. Repeat for each camera.
Step 4: Configure time span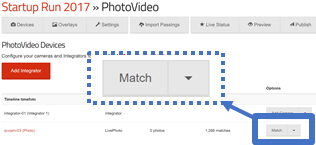 Click 'Match' and configure for every camera the time span. This determines how many photos are matched to a participant passing the mat. E.g. how many seconds before/after passing do you want to include? This depends on the camera setup (is the camera pointing at the mat, or before, or after?). Typically, the time span should be no more than 2 seconds.

Step 5: Upload the overlay(s)
Click 'Overlays' and upload at least one overlay in 16:9 ratio with sponsor logos. Keep logos at the top, please. Transparent .png with dimension of 2000 x 1125px.

Step 6: Connect Integrator to the internet
Connect with the Integrator network by either connecting your laptop to the 'laptop' ethernet port or by connecting over WIFI (using password 'photovideo'). See article ... for instructions to switch between USB modem and wired ethernet.

Step 7: Load the settings configured in the EventCMS to the Integrator
Go to 'Event Info' in the Integrator menu and press 'refresh' to load the settings and verify event ID[2] and timeline. Once the settings are loaded, the Integrator can work offline. Don't forget to set internet mode to the setting you will use at the event.
[2] To find your EventID go to the event in the EventCMS and look at the Event Details table.